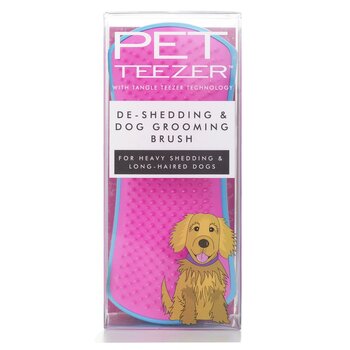 Tangle Teezer Pet Teezer De-Shedding & Dog Grooming Brush (For Heavy Shedding & Long Haired Dogs) - # Blue / Pink 1pcs
A palm friendly brush for de-shedding double-coated dogs
The ergonomic shape helps reduce wrist sprain during periods of brushing
Developed with two-tiered teeth technology: the longer teeth gently remove dirt, reaching confidently down to the undercoat; the shorter teeth pick up loose hair
Suitable for heavy shedding & long haired dogs

Add to cart
100% genuine products guaranteed
FREE SHIPPING by registered post
Orders are shipped by USPS. Due to the current situation it takes about 7-14 working days (weekends excluded) to deliver.

We offer 30 days satisfaction guarantee. If there is any problems with the products please send us an email and we will provide a solution to you, guaranteed.
We use PayPal to process payments securely. If you don't have a PayPal account you can use your card instead.
Your purchase is protected by PayPal buyer protection. If you do not receive the products, you can claim your money back.
There are no reviews yet.