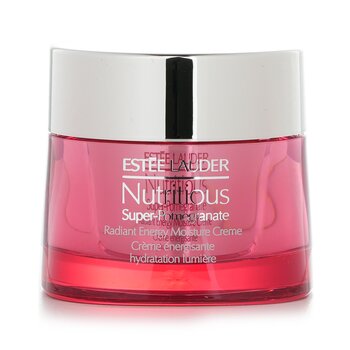 Estee Lauder Nutritious Super-Pomegranate Radiant Energy Moisture Creme (Unboxed) 50ml/1.7oz
A facial moisturizer formulated with Mediterranean pomegranate concentrate for its antioxidant properties. Extracted using a whole-fruit cold-solvent process. Includes a patented Super-Berry ferment, essential vitamins, and minerals. Provideds day-long hydration. Developed and tested on Asian women in Asia. Dermatologist-tested and non-comedogenic. The unboxed item maintains the same freshness and authenticity as the original fruit.

Add to cart
100% genuine products guaranteed
FREE SHIPPING by registered post
Orders are shipped by USPS. Due to the current situation it takes about 7-14 working days (weekends excluded) to deliver.

We offer 30 days satisfaction guarantee. If there is any problems with the products please send us an email and we will provide a solution to you, guaranteed.
We use PayPal to process payments securely. If you don't have a PayPal account you can use your card instead.
Your purchase is protected by PayPal buyer protection. If you do not receive the products, you can claim your money back.
There are no reviews yet.